Marlin's New Family
Marlin is a great dog. It only took him a few days to get acclimated into our furry family. He's a really sweet dog who loves to play. He and the other dogs play most of the day. He is really great with my son too. Marlin just lays there while my son pets him, tries to play race cars with him and he is the sweetest dog to him. Marlin loves to be loved on and loves his squeaky toys. He's a well-mannered dog and does very well on a leash. He loves going on walks and then coming home to sleep in my bed. He is a good guard dog too. He barks at anyone who knocks on the door, is in our front yard, and of course the mail person. I'm really glad that we brought Marlin to live with us.
-Kristin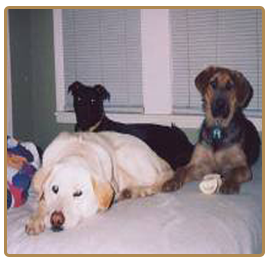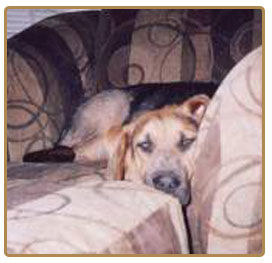 Nemo's new Playmates and Family
Things are going well here with the "puppies." Everybody is just family now. I'm still having trouble getting the two of them to really play with each other outside. To Elsa outside means someone is going to throw balls and Frisbees for her and she doesn't pay much attention to Nemo. He gets in on the action by playing interference. Elsa concentrates so hard on the ball that she can run cross the yard with Nemo hanging on to her neck and still catch anything in the near vicinity. Then Nemo grabs the ball away after she catches it. They have a tendency to do most of the interaction with each other inside the house as they race frantically in circles (We have a house that allows circles!) chasing each other. As frenetic as it seems, they have yet to break anything – although Nemo has strip the sheets off of beds as he leaps upon them a slides off to the other side. I know, I'm not keeping a tight ship around here, but they are having a good time. I don't know if you can tell from the pictures, but Nemo has gotten bigger than Elsa – and he was supposed to be the smaller dog!! He's a big huggy bear, though, and I can count on him to stick close. Ya gotta love his sweet face! I'm so glad you convinced me to adopt another pup. Every now and then Elsa gets jealous, and has to make sure he remembers his place, but for the most part they enjoy each other's company. Elsa is the brains and he is the brawn
-Marsha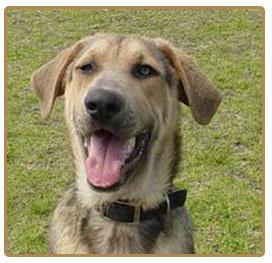 Story of Chance and Beller Family
We adopted Chance, a black lab/hound mix in November of 2005. We were looking for a big dog with a gentle spirit who would add love to our family and specifically for our son, Sam, who has Cerebral Palsy and a degenerative nerve disease. Chance came to our house that already had 4 kids, 2 parents and a vast array of home health nurses, therapists, etc. He was overwhelmed and became our "emotional freak," scared and nervous. But, we soon found many reasons to love him and make him ours. He immediately bonded with Kelly (Mom) and is her shadow alllllllll day. The barriers began going away as he took to his duties of helping Mom get the kids out of bed in the morning and bathing the kids. Chance's other favorite pass times included playing with and wrestling with the kids, carry the food bowl, as well as regular snuggle times with Sam. But, the real reason Chance passed the test to become a family member … he's the best 80 pound lap-dog you'll ever find.
-The Beller Family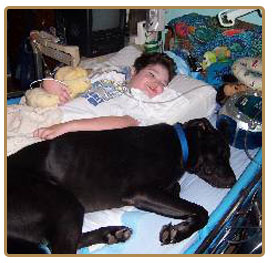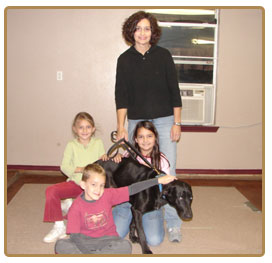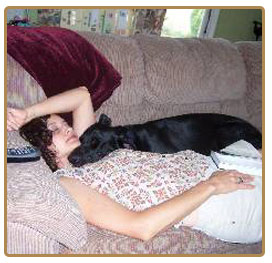 Chad
Chad has found his forever home with a loving family just down the road. He also has a four legged friend Buddy to play with. The family just loves and spoils him and he enjoys every minute with his new family.
Buddy's First Christmas with his New Family
Hey Kim,
We hope you are having a wonderful holiday and wanted to wish you a Merry Christmas and a Happy New Year! Buddy has stolen our hearts. He even has Justin taking him on car rides and throwing his "ropey" for him over and over again. At the lake he has taken to squirrel chasing and is getting close which may be good or bad. He and James' beagle enjoy roving around in the pastures. He's only fallen off the dock into shallow water twice! Thought you might want a recent picture.
-Take care, JoAnn